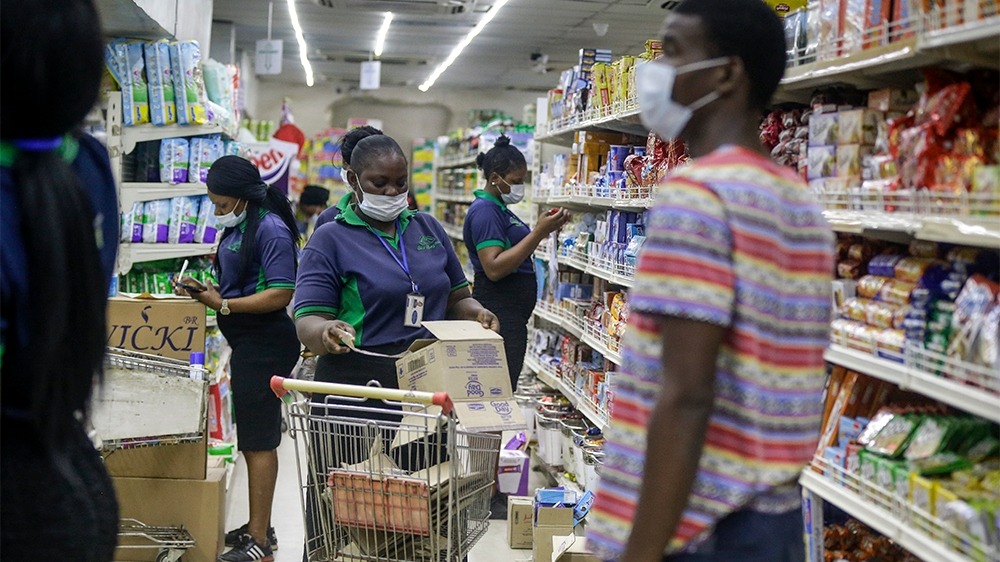 The Ministry of Health, led by CS Health, Kagwe has estimated 10,000 positive coronavirus cases in Kenya by the end of April.
I know most of the people started their lockdown since the first case was reported on March 13th, 2020 in Kenya.
Many of people stormed the supermarket to stock up for the lockdown. Fast forward, it's April 20th and the food that was stocked up is now either finished or almost.
Let me remind Kenyans, Corona Virus is not a joke, we are all on the news and we have seen the damage and sorrows it has brought to many families in the most affected countries of the world.
So What if the speculations are no longer speculations and indeed 10,000 coronavirus cases will be a reality by the end of this month? April 30th, 2020?
As I write this article today on Sunday, April 19, 2020, 262 cases of infected people have been confirmed.
Guess what? If this trend continues like this, Lockdown may be inevitable. It is the sad truth and we all must embrace the idea.
It is quite sad that in Kenya most families live from hand to mouth but we all must arise and think about this lockdown and the survival tactics for that.
Ashley's fresh market with the help of renowned nutritionist Caroline Shalo has compiled a list of items that a normal household in Kenya would need as a lockdown starter package.
Before  I get there, Out of my own experience  these are some of the things I noted during the partial lock own period of March 15th – April 15th, 2020
Avoid buying food that needs refrigeration, WHY! Kenya's electricity supply is not reliable?
More Data bundle than before. WHY? Doing almost nothing you tend you spend a lot of time online.
If you have children, then you must have noticed they eat like there is an order of food in their stomachs. (on a lighter note though)
Remember well-stored fruits and vegetables can last a long time. See my guide for storing fruits and vegetables in my next publication.
People have made fun of how we will have so many children after the lockdown, ooh well, if you aren't planning to have any children, then stock up on family planning pills. (haha)
A Kitchen Garden as small as 3x 3 meters can feed a family for weeks, Buy sukuma wiki and spinach seedlings and do the necessary. I did it so I know you can.
We used a lot of soap at home. Why? personal hygiene was a crucial factor at this time of battling Corona Virus outbreak in Kenya
Always keep your phone charged with adequate airtime. WHY? if the speculations will turn out true, a lot of people will go on quarantine, you will always want to check on them.
Buy some fun items for the children as you will need to keep them busy outdoors, otherwise, they may become couch potatoes.
These are not days to send money to people for reasons that can wait.. Everyone needs to have some Cash money or Mpesa for rainy days to come.
Have some emergency contact numbers at reach for all the family members to see and use
Here are the essential list and survival food for lockdown
NUTRITION
Green grams- Dengu – 5Kg
Yellow beans – 5kg
Lentils (Kamande) – 5Kg
Groundnuts (Njugu Karanga) -2 kg
Black beans (Njahi) -5 kg
Soy Beans – 3 kg
Black-eyed peas -3 kgs
Navy beans (Noe) -3 Kg
white bean (Mbaazi) -3 kg
Dried maize (muthokoi)- 5 kg
Rice -10 Kg
Wimbi -5 kg
Flour – Ugali – 5- 10 kg
Unga Chapo – 4 to 5 packets
Long life milk – Has 5 months expiry period
Supergetti -depends with your family needs and taste
KITCHEN ESSENTIALS
Salt – 4 kg
Sugar – 5 kg
cooking oil – 5 liters
Clean Water – Store in jerrycans (Mitungi as I call them hapa nyumbani )
Water guard
GROCERIES AND FRUITS
Don't over-buy fruits as they may not last for long. (See my next guide about storing fruits and vegetables for longer period.)
Oranges – 2 kgs
Lemons – 2 kgs
Water-melon – 3 Small/medium ones
Bananas – You can buy the unripe ones and it will take a few days before they ripe
Tomatoes – buy ripe and unripe (un-ripe being many) – 3 kgs
Onions – Look for the dry ones – 3 Kgs  (Place them outside to Dry.)
DETERGENTS and Hygiene produces
Bar soap – 5 bars
Powder detergent – (We call it Omo) lakini we all know its not Omo, its detergent  4 kgs
Sanitizers – 1 liter
Tissue papers – 20 pieces
Liquid soap or beauty soaps – Keeping yourself clean and away from virus
menstrual hygiene products for girls in the house
Bleach (jiK)Hha!  2 liters
Vinegar – I use it to gaggle every morning and evening to kill sour thought germs (You can use salt)
Masks- I don't need to explain, Do I?
MEDICATION
Paracetamol – For fevers and pains
Anti-diarrhea meds
Inhalers-
Multivitamins pills – at Chemist you get them for as low as 1 shillings per pill.
please note that pharmacies and health-care shops will obviously remain open from the directives regarding the Essential Services.  So no need to worry about not being able to access necessary assistance. But remember health professionals advice is to avoid self-medicating, it's always good to seek medical advice especially if you feel any signs of Corona Virus.
ENERGY AND LIGHT
Extra prepaid electricity units
Extra gas or buy a Meko
Jiko- You will be boiling a lot of cereals
Charcoal – Yes Makaa
Torches, Candles and Matches/Lighters
Generator and extra diesel
If you are driving – Cars at full tank
THE BIG QUESTION IS – SHOULD I STOCK UP?
As social distance is encouraged, YES stocking up on some of the said items and reducing your shopping trip frequency will be a key in battling the spread of the Covid-19 virus.
Please and say please, don't panic buy items in the supermarket. Grocery stores and supermarkets will remain open as they are essential services provider in the food industry.
Is it better to order groceries online or go to the store?
Ooh yes! it's best to order food online, experts say. Delivery services dramatically reduce your contact with other people: you pay online, and the package is dropped at your door-steps. This is what we are doing for our Nakuru Residents.
Buy GROCERIES and CEREALS online from The Fresh Market, If you are in
Written by Julie W. Chege
Director, Ashley's Events
Feel free to share my article